Outline
The Research Center for Environmental Quality Management (RCEQM) was inaugurated in 2005. It has three research and educational divisions: Environmental Quality Management, Environmental Quality Prediction, and Environmental Quality Monitoring.
The main goal of the RCEQM is to become an advanced research and educational institution, by integrating various fields of expertise to target integrated watershed management and to investigate the adverse effects of existing and new environmental contaminants on human health and ecosystems.
The RCEQM's research and education will contribute greatly toward solving current and future environmental problems.
Research at RCEQM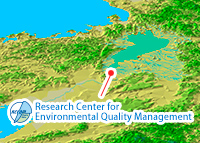 To create and maintain a healthy, safe, resilient environment through:
Risk-based, integrated watershed management that considers the effects of climate change on hydrology and water quality, the environmental risk assessment of toxic chemicals, and governance.
Development of innovative technologies for managing and controlling contaminants in the environment. Sitting on the shore of Lake Biwa and near a municipal wastewater treatment plant, the RCEQM focuses on the management and pollution in the lake and its watershed and on municipal wastewater management.
Revealing how human activity and nature generate contaminants, and the fate and effects of pollutants in the environment.
Assays of environmental toxicity and biology, technologies for the management of contaminants, and establishment of an urban water recycling system.

Activities
Research
Domestic and international research
Academia–society collaboration for innovation
Education
Lectures, including international e-learning
Opportunities for both domestic and foreign students
Outreach
Cooperative research with international, national, and local governments, the private sector, and private companies
Technical, scientific and public seminars
Research topics
Environmental Quality Management
Integrated watershed management of lotic and lentic water environments in Japan and Asia
Taxonomy of natural organic matter to understand its role and function in the aquatic environment and in water and wastewater treatment
Development of bio-mimic sensors for evaluating environmental toxicity
Development of innovative genotoxicity tests
Evaluation of the toxicity of chemicals by using "Omics" approaches: proteome, genome, transcriptome, metabolome, DNA adductome
Environmental Quality Prediction
Water quality management for a healthy aquatic ecosystem
Risk management of emerging pollutants in water recycling systems
Municipal wastewater management, including advanced water treatment and countermeasures against combined sewer overflows
Water reclamation and reuse
Pathogen control in wastewater, water reuse and the aquatic environment
Environmental Quality Monitoring
Cooperative research and education with visiting foreign scholars
Access
Research Center for Environmental Quality Management
Kyoto University
1-2 Yumihama, Otsu, 520-0811.Japan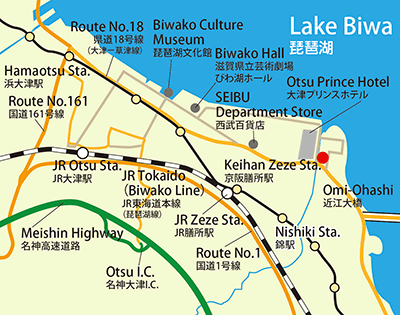 10 minutes by car from JR Otsu Sta.
15 minutes on foot from Zeze Sta.
7 minutes on foot from Keihan Nishiki Sta.
10 minutes by car from Otsu I.C. (Meishin Highway)